Golf Society News Letter Issue 005November 2002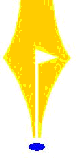 Although delayed by a week due to an unusual monsoon, the Pen Pushers of Colonial Virginia returned to Bull Run on October 23rd for the 2002 Fall Challenge. After the August Deluge that 10 dedicated souls braved for 9 holes and the one-week postponement for our Fall Classic, one began to worry that Bull Run was cursed by the Rain God. Delaying the competition by a week was a good strategy because we had a glorious autumn day for the 18 competitors. The temperatures were unseasonable warm, there were no clouds in the sky and the leaves on the trees on Bull Run Ridge were ablaze in color.
Newcomers Chip Schwartz and Glen Krauser, both playing off a 22 handicap, placed second with impressive 35s. Steve Pera also joined us for the first time and burned up the course on the front nine scoring a 22 but came back to earth with 7 points on the back nine for a total of 29.
Dave Beauchamp won his second tournament of the year with an outstanding 37. Dave's handicap will get another 2-stroke reduction to 14 with this win. At this pace, winning two tournaments a year, Dave will be a scratch handicap golfer for the Pen Pushers in 3 years.
Birdies were falling like the rain of a week earlier, with a total of four scored by three players: (hole #11), Dave Beauchamp (holes #5 & #13), and Ron Duck (hole #4). Enjoy your whisky awards!
Mike Rubin was a good sport in accepting his first ever Goat-boy award with 6 points. As one can see, the level of competition improves each month with the Goat boy award going to increasingly higher scores. Maybe some time at the driving range is in order for everyone.

Playing only for the second time with the Pen Pushers, Rajeev Joshi took out his big stick on hole #14 and landed the Longest Drive Award. Rajeev's accuracy paid off as a majority of the contestants couldn't keep their drives in the fairway.

Scott Padget rounded out the award winners by being the closest to the pin on his initial shot at the par three number 6 hole. Great shot Scott! (Say that three times fast).
We hope to see you all at Raspberry Falls on November 20th!





Pen Pushers Return to Bull Run for Fall Challenge

Fall Challenge October 2002

Results

Champion

Dave Beauchamp

Goat-Boy Award

Mike Rubin

Long Drive

Rajeev Joshi

Closest to the Pin

Scott Padget
Membership Drive Still on:


We would still like to grow the membership. If you know someone who enjoys golf, is fun to be around, and might be interested in participating in an outing, please contact Rick Sterrett or John Sullivan for more details. Thanks ! Contact Information:


Rick Sterrett Mobile: (301) 529-2747 John Sullivan: Mobile: (703) 622-0084
Home: (703) 736-9815 Home: (540) 554-8871
Email: rtsterrett@aol.com email:laurasu@msn.com




November Pen Pushers Meeting


We are currently holding 5 tee times at Raspberry Falls, North of Leesburg, for our November Meeting. It will be held on Wednesday November 20th, 2002. To guarantee your spot in the competition, please email or call Rick Sterrett, John Sullivan, or Dave Beauchamp before Sunday November 17th. We lost money on last months event because two people didn't show. If you confirm on Sunday, you will be responsible for the fee even if you can't play on Wednesday. Please plan to arrive at Raspberry Falls by 9:45AM to pay your fee ($65) and get your foursome assignment. Our tee times start at 10:00AM so that we can finish our competition before dark.


41601 Raspberry Drive
Leesburg, VA 20178
Phone: 703 779-255


Directions to Raspberry Falls from the Capital Beltway:
Take Virginia exit #45, Rt. 267 (W), "Dulles Toll Road,"

Follow past Dulles Airport, following signs to "Leesburg,"

Take exit #1B, Rt. 15N towards "Frederick,"

Stay on Rt. 15 for 4.5 miles (this road eventually turns into a two lane highway at approximately 3 1/2 miles),

Turn LEFT onto RASPBERRY DRIVE at the STONE ENTRANCE WAY marked RASPBERRY FALLS. (Entrance is directly across from White's Ferry Road).

Follow RASPBERRY DRIVE approximately one mile (through housing development) to the CLUBHOUSE on the LEFT.
Raspberry Falls Course Layout