---
| | | |
| --- | --- | --- |
| Golf Society Newsletter | Volume 2 - Issue 2 | April 2003 |
---
Lansdown and Buckley Score Big in Irish Open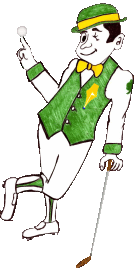 John Sullivan?





Lansdown provided an excellent venue for our 2003 season opening event. The course was in great shape, the food was good, and the service was excellent, even the weather was good to us, as 25 players competed for our first ever Irish Open perpetual trophy. Marcus Buckley turned in a personal best score of 40 points to beat the field and take the honors. Marcus was playing in the first group and had to rush off to the airport as soon as he finished, unable to see if his score would hold up nor attend the awards ceremony. Rumor has it that he was going on a golf trip, nice way to start it off. We look forward to presenting the trophy to Marcus in person at the April outing. Well Done Marcus !

After Marcus, there were three tied with 35 points, John Sullivan, Chris Hughes, and Mark Conroy. With our tie-breaking system, "count back from the most difficult hole", 2nd, 3rd and 4th went in the order as listed above. Sullivan also "lucked" his way into the "Big Dog", Longest Drive Award, as the first group messed up and forgot to start the long drive on the scheduled 5th hole and it was played on the 11th. Closest to the Pin was won by Chris Hughes. The first Goat-boy award of the year went to Rich Dunham who accepted it with honor and looks forward to not winning it again for the rest of the year.

Fashion award goes uncontested to John Sullivan.

Something else worth mentioning, the first group made it around in 4:15 mins. and the final group made it around in 4:30 mins. Well done to everyone for keeping up the speed of play. This is a great improvement over our previous event. All in all, we had a great day and we look forward to returning to Lansdown for next years Irish Open.




Irish Open March 2003

Results

Champion

Marcus Buckley

Goat-Boy Award

Rich Dunham





Long Drive

John Sullivan





ce="Arial">Closest to the Pin

Chris Hughes
---
Location Change for Spring Challenge April 23 - Penderbrook
The outing for April 23rd has changed from Brambleton to Penderbrook. Brambleton was booked on the 23rd This marks the return of the PenPushers to this venue, where we had a good time last year. The first tee time is 12:30, please arrive a half an hour early. Information on Penderbrook is available at http://www.penderbrook.com/golf.
Spring Challenge Registration:
The Captain, Dave Beauchamp, needs to know whether or not you are going to play in the Spring Challenge on April 23rd 2003 by the 16th of April. Please contact Paul, Dave, Rick or John to reserve your spot. Dave can be reached at:

| | | |
| --- | --- | --- |
| Captain Dave Beauchamp | Email: db3par@aol.com | Phone: (703) 669-0866 |
Fee: $60 due the day of the event
---
Important - Other Schedule Changes
Some dates have changed. We apologize for any inconvenience this might cause:
From: Reston National May 14th
To: Stoneleigh May 21st
From: Stoneleigh June 11th
To: Reston National June 18th
Please check the online schedule for the latest information at http://penpushers.us.
---

Membership Drive Still on:

Membership packages will be mailed by the end of April, including the Membership Hand book and 2003 USGA Rulebooks
We would still like to grow the membership. If you know someone who enjoys golf, is fun to be around, and might be interested in participating in an outing, please contact Rick Sterrett or John Sullivan for more details. Thanks ! Contact Information:

Rick Sterrett

Email: rtsterrett@aol.com

John Sullivan

Email: laurasu@msn.com

Mobile: (301) 529 - 2747

Mobile: (703) 622-0084

Home: (703) 736-9815

Home: (540) 554-8871
---
2003 Membership Update
Membership Privileges:
Scheduled Monthly Golf Events

Handicap Tracking

Eligible to be Event Winner with trophies and awards

Monthly Event Discounts ($20 per month)

Monthly Newsletter

Ryder Cup Candidate (USA vs. England)

Membership Handbook

2003 USGA Rulebook

Invite Guests to Events
Membership Dues:
Annual Membership Dues (per Member): $50 per year due March 1st, 2003. The dues will allow the Pen Pushers to place deposits with courses, guarantee the dates, and fund the trophies and prizes. Please send your check to Rick Sterrett at 11868 Fawn Ridge Lane, Reston, VA 20194 and make it payable to our Vice Captain, John Denale. The payment of your 2003 membership dues will put your membership in "good standing."
Fees:
Guest Fees (non-member): Member plus $20

Event Fees will be paid on the day of the event and paid to the Captain, Event coordinator or Treasurer.
Registration:
Member Honor Code - A Member can reserve entry into an event by contacting the event coordinator or a committee member by phone or e-mail. Specific contact detail for each event will be communicated in the monthly newsletters. More details on the Member Honor Code are included in the 2003 Membership Handbook.

Guest Registration (non-members) - Guests can only register for entry into an Event if a Member sponsors them. In this case, the Member exercises their Honor Code to reserve the entry for the guest.
Awards and Prizes:
Main Events - There will be a minimum of three (3) perpetual trophy events in 2003. These will be our Main Events of the year. These main event perpetual trophies are significant trophies, cups and plaques which will be engraved with the winners name, retained by the winner for the year and passed on to the next year?s winner the following year. Winners of these events will also receive other prizes.

Monthly Competition - Award: Each monthly competition will have the following trophies and awards.

Champion (Winner) - Trophy

Goat-boy (Last place) - Trophy
---
Handicaps Heading into Penderbrook Apr 23rd 2003
| | | |
| --- | --- | --- |
| | | Current Playing |
| Last Name | First Name | Handicap |
| Aroesty | Norm | 24 |
| Beauchamp | Dave | 14 |
| Benedict | Claude | 30 |
| Buckley | Marcus | 20 |
| Castner | Wayne | 28 |
| Clark | Brian | 12 |
| Conroy | Mark | 14 |
| Damvakaris | Chris | 28 |
| Denale | John | 30 |
| Duck | Ron | 9 |
| Dunham | Rich | 36 |
| Fotchman | Jed | 28 |
| Frazee | Brain | 16 |
| Gallisa | Rick | 30 |
| Hall | Ron | 30 |
| Hardesty | Steve | 26 |
| Hardy | Vernon | 36 |
| Hughes | Chris | 17 |
| Joshi | Rajeev | 30 |
| Krauser | Glen | 18 |
| Leavy | Steve | 12 |
| Mallard | Bob | 16 |
| Odom | Russ | 31 |
| Oretega | Mario | 32 |
| Padget | Scott | 28 |
| Patchett | Ed | 5 |
| Penmetsa | Subash | 20 |
| Pera | Steve | 18 |
| Power | Mike | 15 |
| Pyska | Michael | 30 |
| Rubin | Mike | 32 |
| Satyshur | John | 14 |
| Swartz | Chip | 22 |
| Sincavage | Steve | 28 |
| Sterrett | Rick | 24 |
| Sullivan | John | 20 |
| Tierney | Paul | 30 |
| Zarobila | Clarence | 24 |
2003 Pen Pusher Schedule
Please see the most up to date schedule on-line at http://penpushers.us


---
Captains Corner
I would like to congratulate Mr. Marcus Buckley on a truely solid performance at Landsdowne last month. With a performance like that, Mr. Buckley should probably be writing this month's captains tip.
This month I would like discuss putting. As they say, "Drive for show, putt for dough."And that is never more true, especially early in the season as we are still trying to work out the kinks from too much winter. For us average, high handicap, weekend golfers, we will on average, use our putter between 36-40 times a round. So I hope the following tip will give you more confidence when you are faced with that par saving 6 footer.
*When you practice putting to a real hole, there is no way to accurately gauge the ball's speed if the putt goes in the cup. During practice, putt four balls to a dime from three to six feet away. Whether you hit the target or not, putting to a dime gives you an idea of the ball's speed, which is an important factor in refining your directional control. Try to roll the ball consistently 12 to 18 inches past the hole. A bonus: Once you complete this drill, the real hole will look huge by comparison.
And a technique I like to use on longer putts, 15' or longer, is to pick a spot on the line of my putt that is several yards in front of the ball. That way if I hit my spot, my chances of the putt staying on that line are improved.
One last tip is in the actual stroke of the putter. In my putting stoke, I try to never allow head of the putter to go past my right foot in my takeback of the putter coupled with a even-speed follow through.
I hope this helps as we take on Penderbrook this month.
Captain Dave
*an excerpt from golfdigest.com
---
Web Site Update
Come visit us at www.penpushers.us !
---